Leave a comment
September 10, 2012 by Gail Armstrong
One of the joys of illuminated manuscripts is the whimsy that often livens up the margins.  You may have at the centre of the page a serious Biblical scene, surrounded by a graceful and intricate decorative border…then, if you look closely, that beautiful border contains lively little animal or human portraits, whimsical scenes or bizarre hybrid creatures or grotesques that are both surprising and endearing. 
I like to think of the artists who created these touches having a smile as they added a little joke to their work, both for their own amusement and for that of the future reader of the prayer book (or whatever work it may be) – something to bring a smile to his or her lips at a long, dreary service perhaps?
I thought today I'd share a few of these engaging little portraits, and the theme of the day is monkeys.  I'm not the first to highlight the frequency of their appearance – a nice little article called "Monkeys in the Margins" may be found at http://britishlibrary.typepad.co.uk/digitisedmanuscripts/2012/04/monkeys-in-the-margins.html.  It features monkeys found throughout a particular manuscript known as the Isabella Breviary, part of the British Library collection.  I will share a few of those images, but there are many monkey cameos in other documents as well.
Here are some of the "Isabella" monkeys.  The first is my favourite…the industrious, long-limbed simian is spinning yarn in the lower right-hand corner of an elaborate page.  I think she looks content with her work, and quite smart in her head-scarf.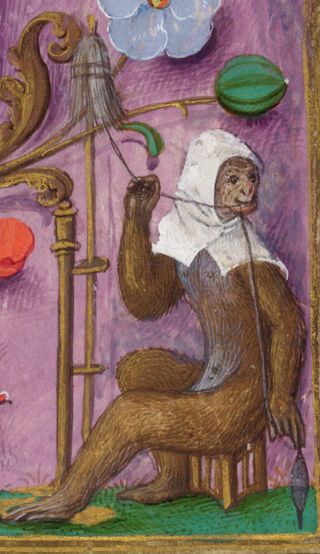 2.  This fuzzy fellow seems to be gazing in a mirror, admiring the view from his petal perch.  (And why not – he's quite handsome.)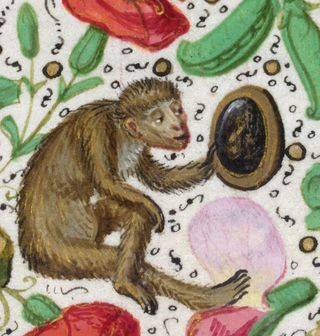 3. Now this monkey strikes me as a bit disreputable, not because he's playing the bagpipes, but because of the look on his face – a trouble-maker if ever I saw one.  He's the kind of monkey who would make a rude noise with his pipes and blame it on the monkey on the next page!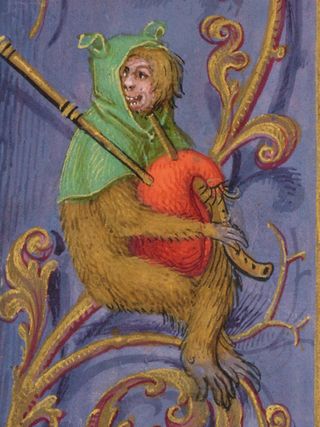 4.  Here's another charmer, having a bit of fun with a toy while treading on a slender viola stem.  (Aren't the colours gorgeous?)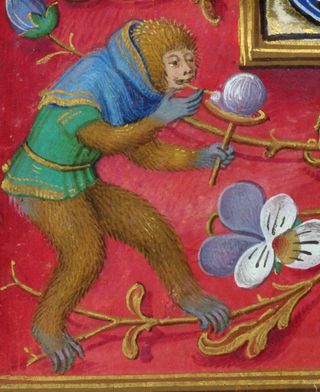 5.  This monkey lives in an altogether different kind of book, being Salomon Trismosis' Splendor Solis, an alchemical treatise (also in the British Library collection).  He seems to be playing mandolin in a jasmine grove, a pleasant occupation, I'm sure.
http://www.bl.uk/catalogues/illuminatedmanuscripts/ILLUMIN.ASP?Size=mid&IllID=21607
6.  This next image illustrates in spades what I meant by "whimsical scenes".  You may like to click through to the enlarged version on the original website to see it more clearly, but what we have here is a monkey on stilts AND a hobby-horse with a pelican on his head.  But of course.
http://www.bl.uk/catalogues/illuminatedmanuscripts/ILLUMIN.ASP?Size=mid&IllID=22180
7.  Here's another bizarre tableau, not nearly so finely painted but included here for the sheer weirdness of the scene:  yes, it's a rabbit astride a monkey jousting with a similarly monkey-riding snail.  This image also comes from Froissart's Chroniques.  (I can't help but wonder if the painting of this page was unfinished as it seems so crude compared to the example above.)
http://www.bl.uk/catalogues/illuminatedmanuscripts/ILLUMIN.ASP?Size=mid&IllID=39617
8.  And finally, here's another favourite…this one comes from a book called Imagination de vraye noblesse, by Hugues de Lannoy and Quentin Poulet, from Bruges again, this time circa 1496.  He suits his book, as he strikes me as quite refined – sitting in the rose garden, contemplating life, perhaps pointing out some detail of the plants to his bird friend.  Noblesse, indeed.